What Influences the Price of Steel?
Steel building pricing is more complicated than you might assume. Steel is a global commodity and that means the price of steel varies on a daily basis. Prices can be influenced by several factors, including natural disasters, the strength of the American dollar, and the general condition of the world economy.
DOMESTIC FACTORS

GLOBAL FACTORS

The strength of the United States dollar

Demand for steel used in any product

Trade tariffs

The general condition of the world economy

Natural disasters

Wars and other political events
The Pricing Factors You Control vs External Influencers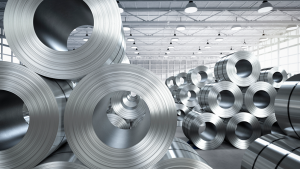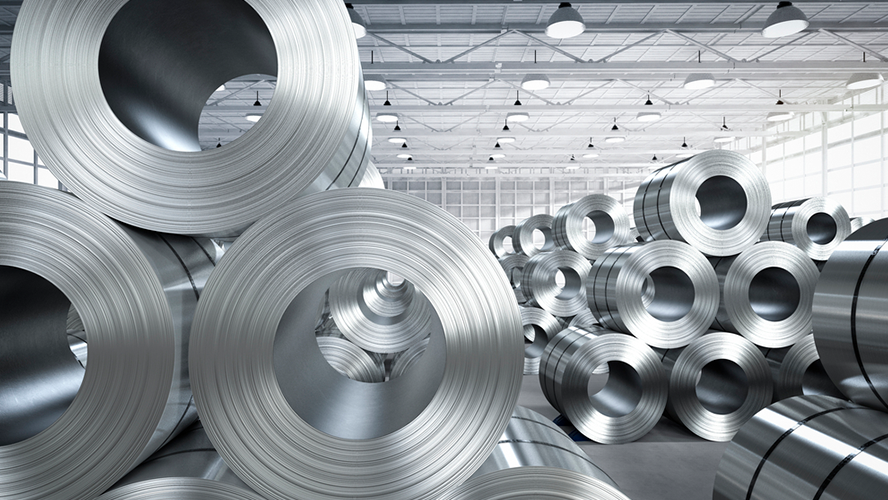 While some factors that influence the cost of your metal building like the size and the components added to create a custom metal building are within your control, many of the ingredients that influence the current price of steel are external forces. This is why we continually review the world's most authoritative sources on steel prices and publish our forecast. Knowing the current facts will help you determine the right time to lock your steel building price.
2018 Review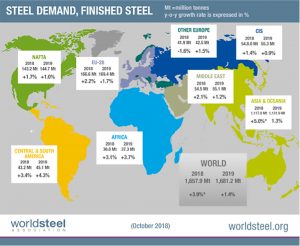 An October 2017 release from the World Steel Association predicted a small increase (1.6%) in global steel demand for 2018. That projection proved to be too conservative as the same report (right) in October 2018 details increases of 3.9per cent due to consistent increases across the globe with Asia and Oceania leading the way at 5 per cent.
The increase in demand continued a trend from 2017, but a volatile political climate threatens to upend any consistency built in the past couple of years. The steel tariffs enacted in February 2018 had immediate effects on steel prices, and the resulting increases have been passed on to the consumer thus far. That said, the global steel market saw a sharp decline in prices in late November (below). Experts warn, however, that the drop is temporary and can be attributed to a brief surge in Chinese production.
Today's Current Steel Price
According to tradingeconomics.com steel prices reached a peak in January 2018 and while prices are relatively low today, prices are expected to remain volatile and could easily return to that near historic level.
As demand increased, so too did supply as improving economic conditions worldwide contributed to a better-than-expected year for the steel industry. Those conditions contributed to high steel prices globally, although right now, prices are relatively low in the United States this year compared to last year (below).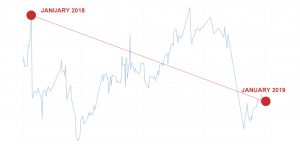 This could be one of the most difficult projections in years, as trade tensions between the U.S. and China add a significant amount of uncertainty to the mix. In its semi-annual report, the World Steel Association projects consistent increases in demand across the globe. Al Remeithi, chairman of the World Steel Economics Committee, pointed to the past year's consistency:
"In 2018, global steel demand continued to show resilience supported by the recovery in investment activities in developed economies and the improved performance of emerging economies."
That projection is balanced by concerns over global trade policy that could weaken demand as well as China's commitment to enforcing environmental regulations. These factors, combined with currency instability and a slowing global economic growth, all pose risks to steel demand.
All considered steel prices at the beginning of 2019 are relatively low when compared to 2018. We expect that price to gradually rise as trade tensions ease, global and U.S. demand continues its resilience and China's recent surge in production tails off.
Source: General Steel Building.