Steel roof truss manufacturing and fabrication from Vietnam to Australia, New Zealand, American and worldwide. We AM Industries Vietnam meet the needs of contractors and builders in a more efficient and sustainable way.
The climate change and pandemic like Covid-19 pandemic are dramatically changing our construction industry. We can see a gradual change in construction trend moving from wood materials to non-wood materials like steel, sturdier, structural composite, etc.
Steel roof truss becomes one of the best alternatives and structural engineering most important elements. In this article, we will provide an overview about steel roof truss, the comparison between steel and wood roof truss as well as 5 main types of steel roof truss.
What is steel roof truss?
A steel roof truss is essentially a triangulated system of straight interconnected structural elements. The individual elements are joined at the nodes by welding. The external forces applied to the system and the reactions at the supports are generally applied at the nodes.
When all the members and applied forces are in a same plane, the system is a plane or 2D truss. It is a type of steel truss that is commonly used in steel buildings, where support to roofs, the floors and internal loading such as services and suspended ceilings, are readily provided. Its advantages:
Long span that wood timbers can not support
Lightweight and strong
Reduced deflection (compared to plain members)
Opportunity to support considerable loads.
Do you have any further questions about steel roof trusses (price, drawings, process), contact us via email sales@aminds.com (Ms. Thanh) and we will feedback in 12 hours.
Steel Roof Trusses vs Wood Roof Trusses (Timber)
Timber framing may be one of the oldest building construction methods still popularly practiced today. On average, new residential construction accounts for one-third of all wood products consumed in the United States.
But everything is changing. Wildfire are getting worse. The cost of wood has skyrocketed as more people across the States remodel or built new homes following a pandemic-year construction collapse, causing a timber shortage that adds more than $35,000 to a new single-family home construction cost.
Since then, more and more clients have considered to move from timber to steel roof truss. Furthermore, an integrity structural system between timber and steel truss are developed. Both have advantages and disadvantages, depending on your requirements and your builder preferences.
Features
Steel Roof Truss
 
Wood Roof Truss (Timber)
Price
The price is getting more economical
Before generally cheaper than steel trusses but its price has sharply increased recently
Use
Prefer for both industrial buildings ( shed, barn, mill, workshop…) and residential buildings
Prefer for residential buildings: single-family homes, family warehouse…
Lifespan
A steel frame can last at least 50-70 years with low maintenance and replacing.
A softwood timber framed building is expected to last around 25-30 years
Weight
Steel framing provides a significantly greater strength-to-weight ratio than wood
Extreme Conditions

Steel frame moves more with temperature fluctuations
Resistant to cold weather
Steel is resistant to mold, rot, termite, and insect plagues
Modern structural design and other insulation methods can adjust the temperature more easily.

Is more fire-resistant than unprotected steel beams
Susceptible to rot and insect infestations
Become damaged by adverse weather conditions or lifting in high winds.
Has better insulating properties than steel

Installation

Although steel frame roof trusses require more skill to install, an experienced team should be able to fit them quickly and efficiently
Allowing larger shipment and reducing the time to install

Can be installed without the help of heavy machine.
Recycle

100% recycle and eco-friendly
A large part of the metal trusses consists of recycled material.

Clean timber, dimensional lumber, stumps, and limbs are readily recyclable.
Wood that has been treated, painted, stained, contaminated is not appreciate for recycling.
See our case studies of steel roof truss and frame for shed here
Use of steel roof trusses in buildings
Steel trusses are used in a wide range of industrial and residential buildings. Especially,  they are the most suitable solutions for construction projects which required long spans, flexible space such as clear-span shed, factory, airport terminals, aircraft hangers, sports stadia roofs, auditoriums and other leisure buildings. Roof trusses are also used to carry heavy loads like bridge cranes, and are sometimes used as transfer structures.
5 main types of roof trusses
Trusses comprise assemblies of tension and compression elements. Under gravity loads, the top and bottom chords of the truss provide the compression and tension resistance to overall bending, and the bracing resists the shear forces. A wide range of truss forms can be created. Each can vary in overall geometry and in the choice of the individual elements
In this article, we focus to introduce 5 main types of roof trusses which are mainly used on typical single storey industrial buildings like sheds, factories, warehouses. The roof trusses are widely used to serve two main functions:
To carry the roof load
To provide horizontal stability
Pratt truss ('N' truss)
A Pratt Truss has been used over the past two centuries as an effective truss method. It is commonly used in long span buildings which range from 20 to 100 m in span. The vertical members are in compression, whilst the diagonal members are in tension. This simplifies and produces a more efficient design since the steel in the diagonal members (in tension) can be reduced.
This has a few effects – it reduces the cost of the structure due to more efficient members, reduces the self-weight, and eases the constructability of the structure. This type of truss is most appropriate for horizontal spans, where the force is predominantly in the vertical direction.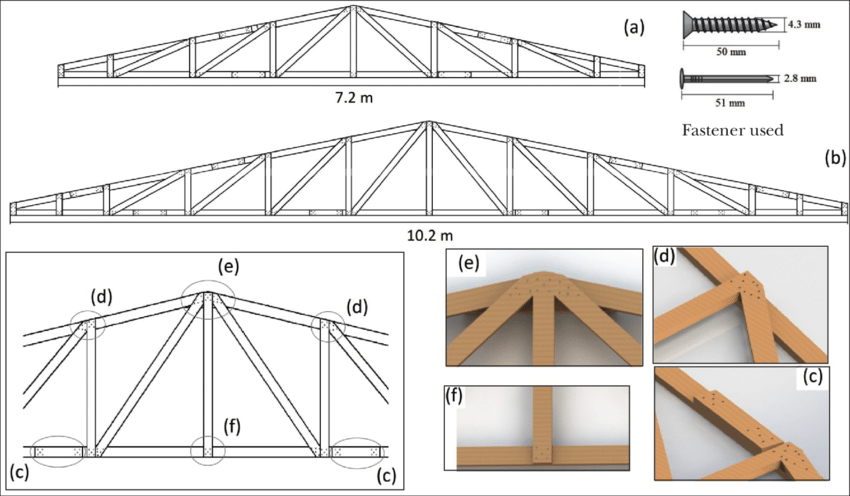 Pratt trusses are commonly used in long span buildings which range from 20 to 100 m in span. In a conventional Pratt truss, diagonal members are in tension for gravity loads. This type of truss is used where gravity loads are predominant. An alternative Pratt truss is shown (below right) where the diagonal members are in tension for uplift loads. This type of truss is used where uplift loads are predominant, which may be the case in open buildings such as aircraft hangers.
Warren truss
The Warren truss consists of longitudinal members joined only by angled cross-members, forming alternately inverted Equilateral triangle-shaped spaces along its length. This gives a pure truss: each individual strut, beam, or tie is only subject to tension or compression forces, there are no bending or torsional forces on them.
Loads on the diagonals alternate between compression and tension (approaching the center), with no vertical elements, while elements near the center must support both tension and compression in response to live loads. This configuration combines strength with economy of materials and can therefore be relatively light. The girders being of equal length, it is ideal for use in prefabricated modular bridges.
Warren trusses are commonly used in long span buildings ranging from 20 to 100 m in span. This type of truss is also used for the horizontal truss of gantry/crane girders.
North Light Truss
One of the oldest and economical methods of covering large areas is the North Light. North light trusses are traditionally used for short roof spans in industrial workshop-type buildings.

This roof consists of a series of trusses fixed to girders.  Therefore, it allows maximum benefit to be gained from natural lighting by the use of glazing on the steeper pitch which generally faces north or north-east to reduce solar gain.

On the steeper sloping portion of the truss, it is typical to have a truss running perpendicular to the plane of the North Light truss, to provide large column-free spaces.

The use of north lights to increase natural daylighting can reduce the operational carbon emissions of buildings although their impact should be explored using dynamic thermal modelling.
Saw-tooth Truss
| | | |
| --- | --- | --- |
| A variation of the North light truss is the saw-tooth truss which is used in multi-bay buildings. Similar to the North light truss, it is typical to include a truss of the vertical face running perpendicular to the plane of the saw-tooth truss. | | |
Fink Truss
A fink truss is one of the most common type of truss used, especially on homes and pedestrian buildings. The truss has an internal web configuration shaped like a W to give the ultimate strength to material ratio for spans from around 5m to around 9m in span which covers the majority of domestic dwelling being built today.
| | | |
| --- | --- | --- |
| The Fink truss offers economy in terms of steel weight for short-span high-pitched roofs as the members are subdivided into shorter elements. There are many ways of arranging and subdividing the chords and internal members. So this type of truss is commonly used to construct roofs in houses. | | |
AM Industries Vietnam's steel truss fabrication
Supplying steel components, steel structure, steel fabrication, industrial services and sourcing from Vietnam and Asia to Worldwide, AM Industries Vietnam covers builder's needs of building their projects in a more efficient and sustainable way.
Our metal truss system makes the perfect product to enclose the walls for a complete steel truss post frame building. Our trusses are manufactured with American Steel here in the United States, Australian Steel Standards, European Steel Standards… We have a variety of trusses for various functions including gable, free standing shed, and Lean-to trusses and more.
Contact us here to get the best quote!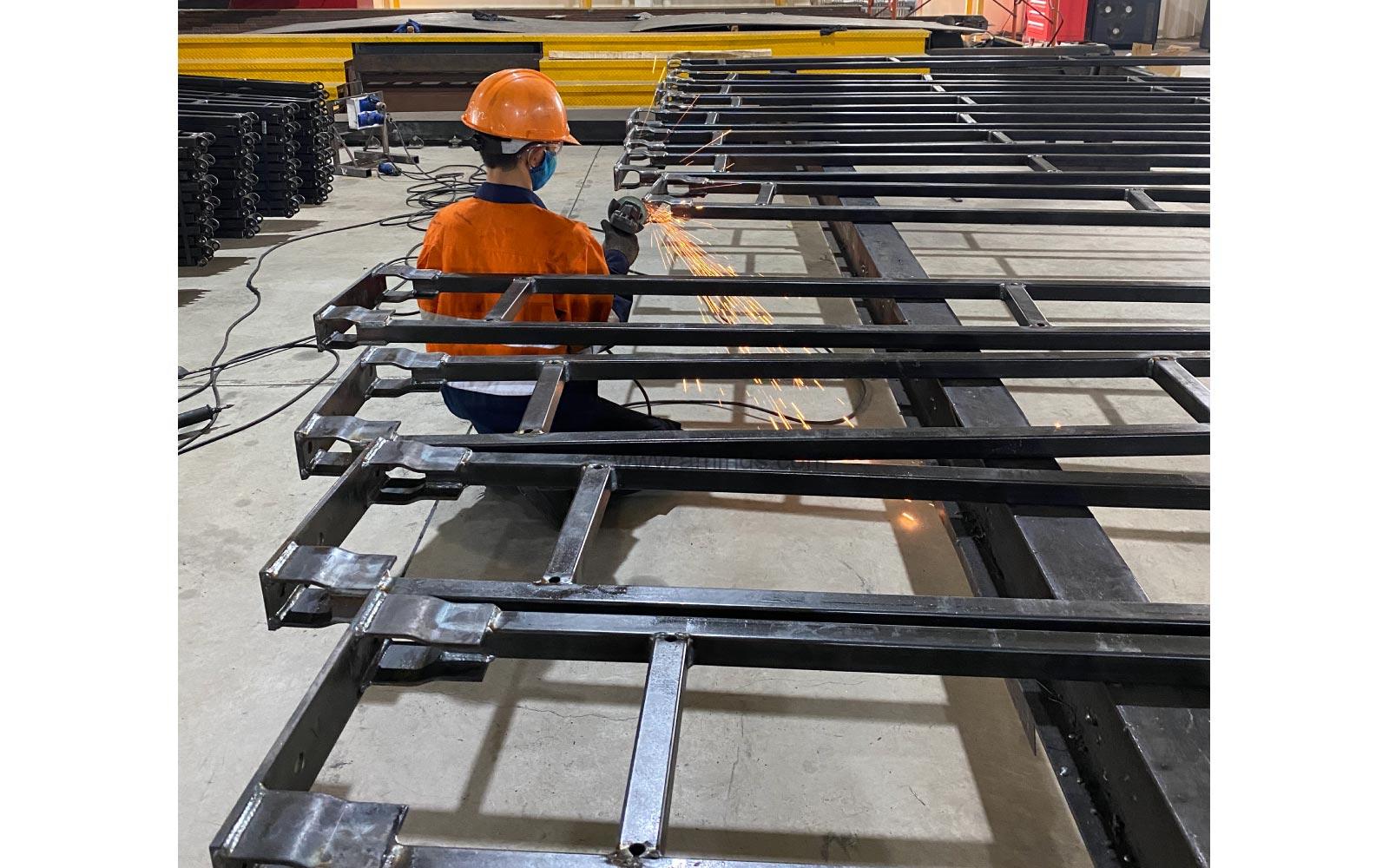 ---
Our Services  – Select the one you would like to know more about