"How much does a steel shed or building cost?" Why is it difficult to answer this question?
Most of the time when you're pricing a steel shed and building, the fabricator won't be able to quote you an exact price. But that's a good thing. Buying a steel building isn't like buying a new t-shirt. Several factors come into play during the fabrication and installation process that will affect the cost of your building.
So if a company can quote you a price right away, they're most likely not conducting adequate research. They haven't done their groundwork to determine how much the building will cost after accounting for all of the elements that will impact the cost. With AM Industries Vietnam we take the steps necessary to make sure you get the steel building you need. We will discuss those factors below.
Note: An important reminder before we start
Before you can tell the company what you want, you have to know what you need.
Knowing what you want and expressing it with your salesman to ensure they understand your design is key in saving your overall cost. When you know exactly what you want from the start, there is less likelihood of surprises throughout construction.
In case you aren't quite sure what you need, we can help you decide what's best for you. Our project engineer team with deep experience in the steel structure field can support you to break down all requirements and select which ones you need. So let's start:
Factor 1 – Shed Size
The first consideration when creating a metal shed/building is how much space is required for your purpose. You'll need to consult with your local authorities to estimate how many square feet/meters your application requires depending on the occupancy category of your building, the number of individuals who will utilize the area, and the amount of equipment you'll need to store.
Because of bulk pricing, the cost per square foot decreases as the size of your facility grows. A 10,000-square-foot warehouse will cost less per square foot than a 300-square-foot shop, all else being equal.
Metal buildings can be as customized or as minimal as your application requires — and the cost will reflect that. Below is a list of average costs per square foot / per square meter(for the steel framing system only). But remember, these prices aren't concrete, and they could change at any time.
16′ x 21′ – $12 per SQFT or $120 per SQM
40′ x 60′ – $8 per SQFT or $80 per SQM
50′ x 100′ – $6 per SQFT or $60 per SQM
100′ x 200′ – $4 per SQFT or $40 per SQM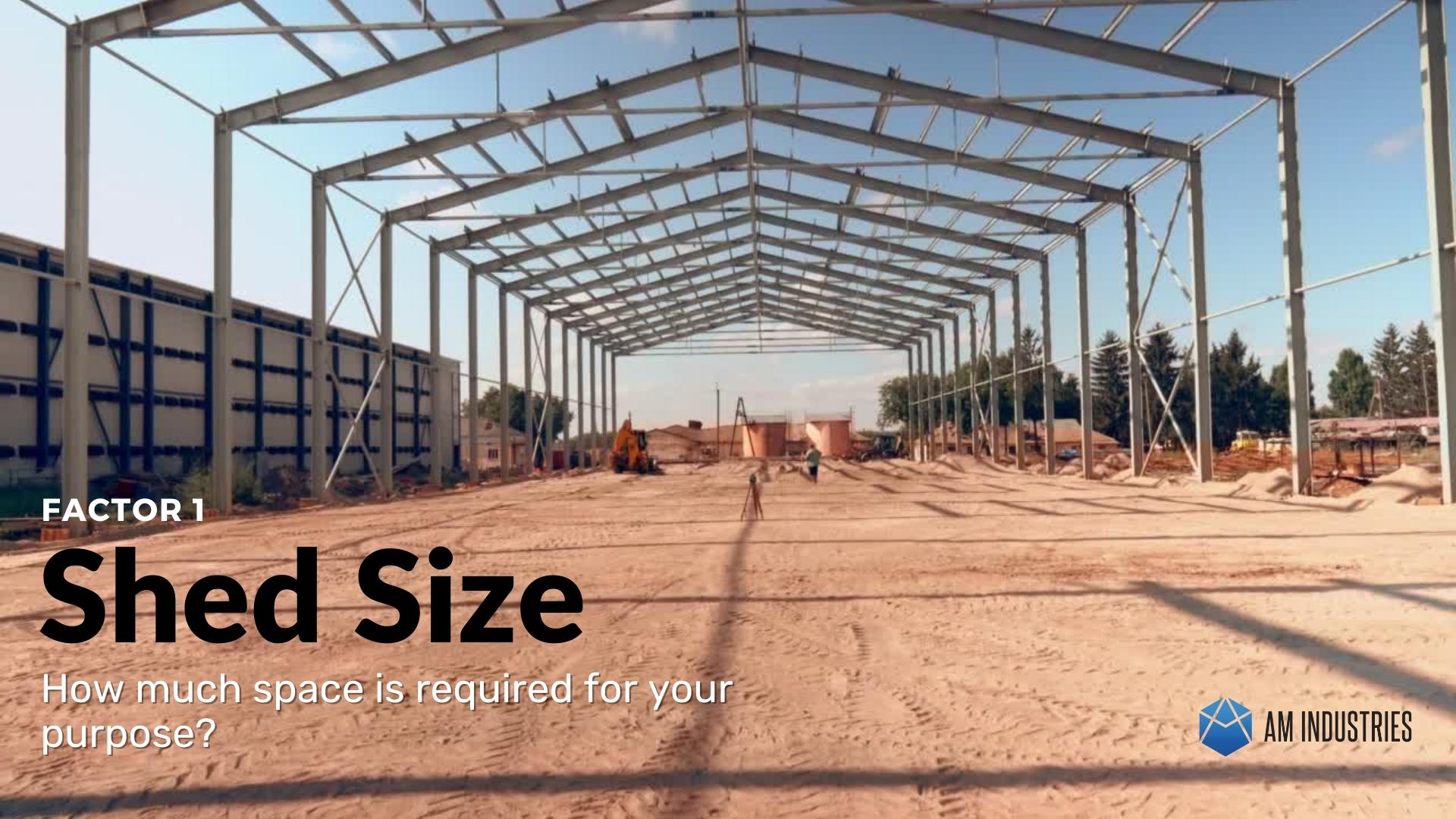 Factor 2 – Types of buildings
The price of your building is also affected by its occupancy type (i.e., I, II, III, or IV). The type of a building is defined by the number of people who will be inside, whether it is temporary or permanent, and the function of the structure. Different design criteria apply to different categories, which might affect the ultimate price of your steel structure package.
Agricultural sheds are a good example of a category I building. They're categorized as such due to their low level of hazard to human life if they fail. Essential facilities like commercial buildings and stadiums, however, are categorized differently because their failure would pose a high risk to human life — these are category IV buildings.
Depending on the type of your building, you may be required to incorporate a number of non-negotiable architectural components such as lighting, HVAC ducting, and sprinklers. Your structure must be constructed to withstand the load of the elements needed by your category or application. Types of loads acting on a structure are:
Dead loads
Imposed loads
Wind loads
Snow loads
Earthquake loads
Special loads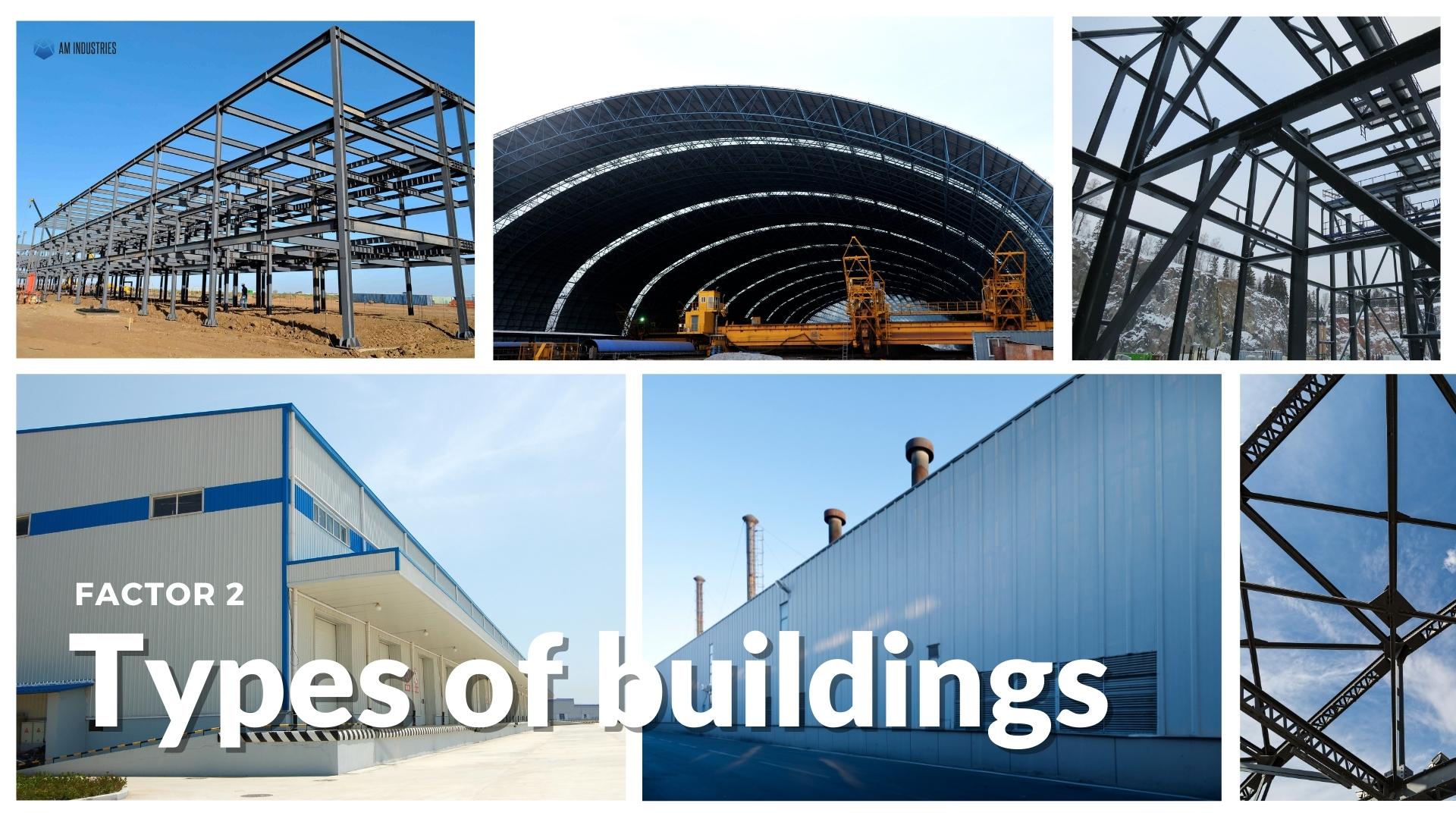 When comparing quotes, you need to make sure your steel building has been designed to support your application's load requirements and comply with your local building codes based on its occupancy category.
To verify this, look at the collateral loads of each quote you're considering. Collateral loads—measured in pounds per square foot (psf) — are added dead loads hung from the building system, or any interior weight of permanent materials other than the actual metal building system. Electrical systems hanging from the ceiling, or an internal sprinkler system are both in the collateral load category.
The collateral load will increase as you suspend more elements from your building. An agricultural steel shed might only require a collateral load of one psf to support a light system. A factory will have a much more complex design with a ceiling, lights, ductwork, a sprinkler system, and possibly a crane bridge. This will put you closer from five to ten psf collateral load.
The cost per square foot/meters of your structure will rise as more parts are suspended from the ceiling. You may obtain one quotation that is far lower than the others, but the building will not fulfill your permit requirements. Looking at each quote's collateral load will save money and headache in the long run.
Factor 3: Location of steel sheds
Metal buildings always are engineered with your location in mind. You have to meet or exceed local codes and loads, so you need to know exactly where you want your building. Building codes and load requirements vary greatly from region to region. This is due in part to the varying seismic risk, temperatures and snow / wind loads of different locations.
Your area's Seismic Design Category will range from A (low seismic risk) to F (extremely high seismic risk). Areas with high seismic risk will have stricter design requirements. Some counties, in particular, have strenuous and specific codes you'll need to comply with regarding seismic risk. For instance, LA County requires your steel building manufacturer to submit documentation stating that the welds were inspected using an X-ray to ensure they're structurally sound.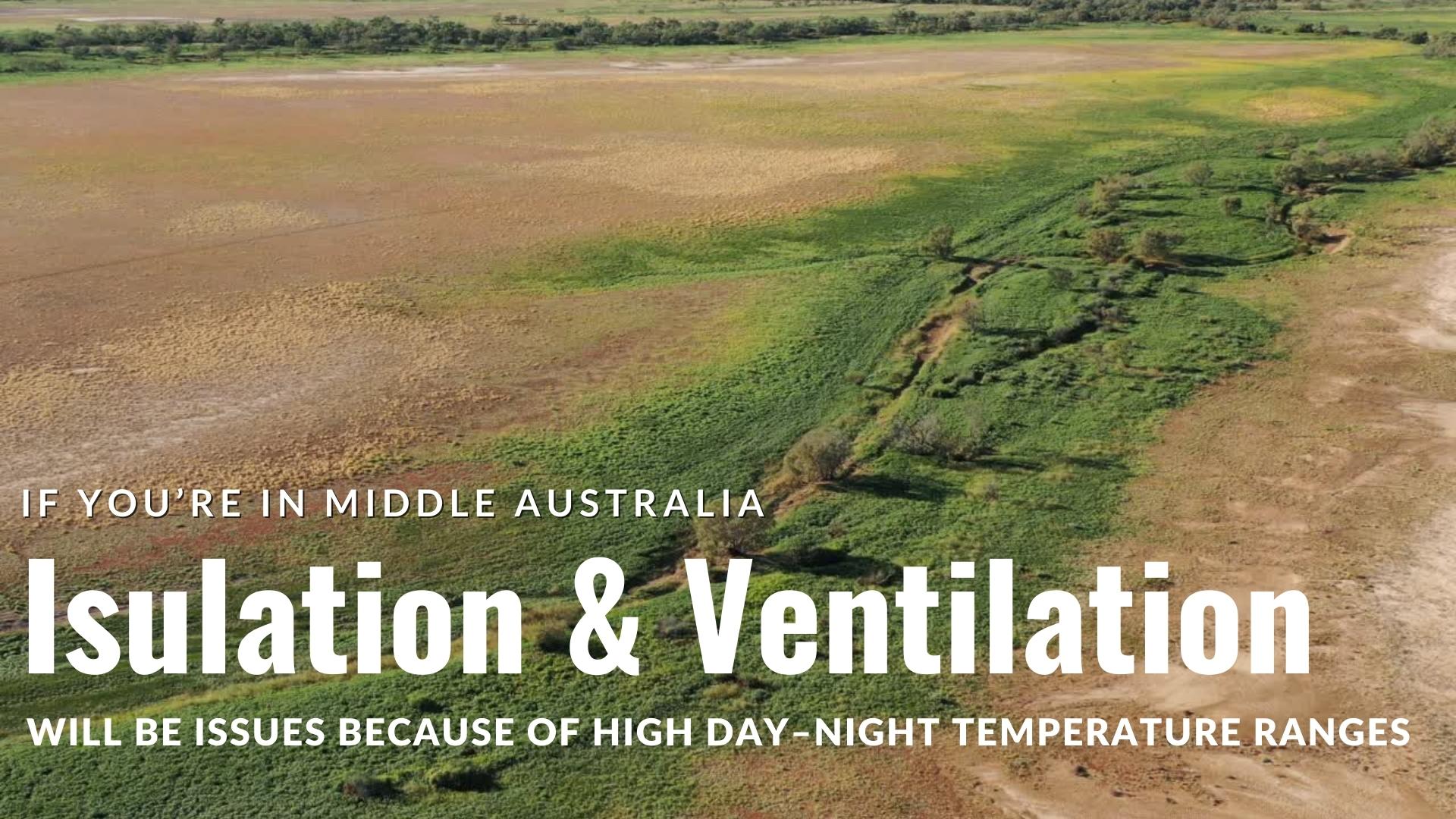 The temperature and weather in your region might also have an impact on the pricing. A structure in Michigan or Minnesota must be able to withstand massive snow accumulation and be insulated against exceptionally cold temperatures. A structure intended to resist the high wind loads of the Florida coastline will be significantly more expensive than a building in a lower-risk region. In another case, if you're in middle Australia, high day–night temperature ranges will be issues.
Stricter codes require specific design features and documentation, driving up the final price of your building.
Factor 4: Complexity of design
There's a significant cost difference between a four-walled "box building" with a gabled roof and a custom-designed two-story school building. The more complex the design and the stricter the requirements of the application, the more expensive the building.
Additionally, a hangar building typically requires a wide, high-fold door which will add to your cost. Substituting a standing seam for the more standard and economical PBR roof will add cost. Adding a second floor —or a basement— will add cost, as well as increase the spacing between bays on your sidewall. A steel roof truss system with a 5-ton bridge crane will be less costly than one with a 10-ton overhead crane.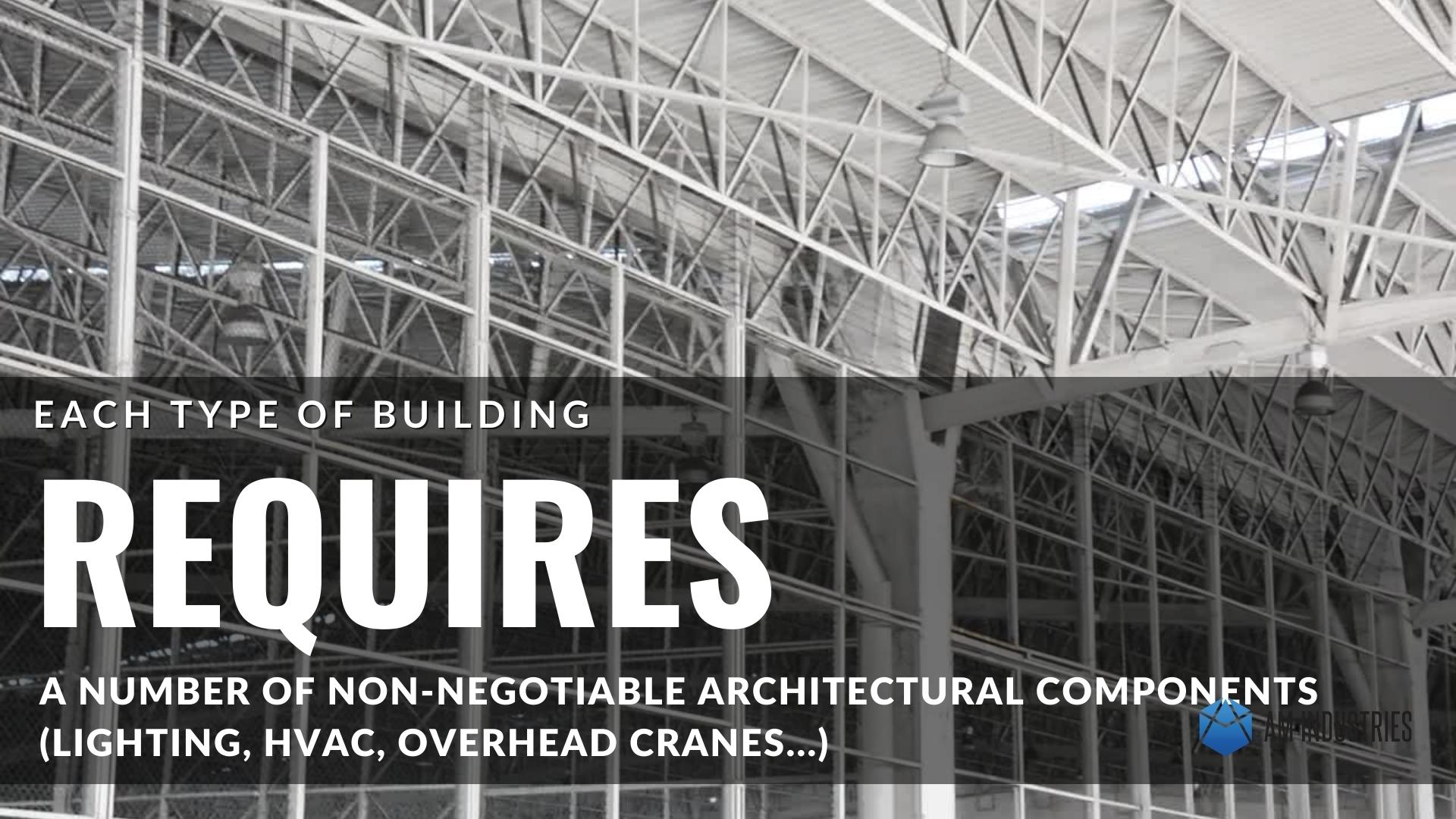 Make sure to have a budget in mind when you call your metal building consultant. There are simple ways to cut costs for your building without sacrificing quality, and your metal building distributor will offer advice on how to get the functionality you need with the funds you have. Besides the steel structure frame system, other components of steel sheds also impact importantly to the total cost such as:
Main Door
Sectional Door
Roll Up Door
Horizontal or Vertical Slide Windows
Insulation
Fasteners and anchor bolts
Sealants and Flashing
Deluxe Trim Package
Ridge Cap
Plans and Drawings
Insulated Stucco Panels
Light Transmitting Panels
Gutters and Downspouts
Primary and Secondary Framing
1:12 Roof Pitch
26 Gauge Roof and Wall Sheeting
Factor 5: The fluctuating price of materials, especially steel
As a commodity, steel is subject to price fluctuations with weather phenomena and changes in the global economy. Even oil prices can affect the price of steel due to heightened shipping costs. Of course, this fluctuation affects the final price of your steel shed or building.
You can see that steel prices have fluctuated strongly in recent years, especially because of the Covid-19 pandemic, and the cruel steel manufacturing has changed drastically. Similarly, the recent tariffs on steel and aluminum have driven U.S. steel prices up, which affects your steel building price.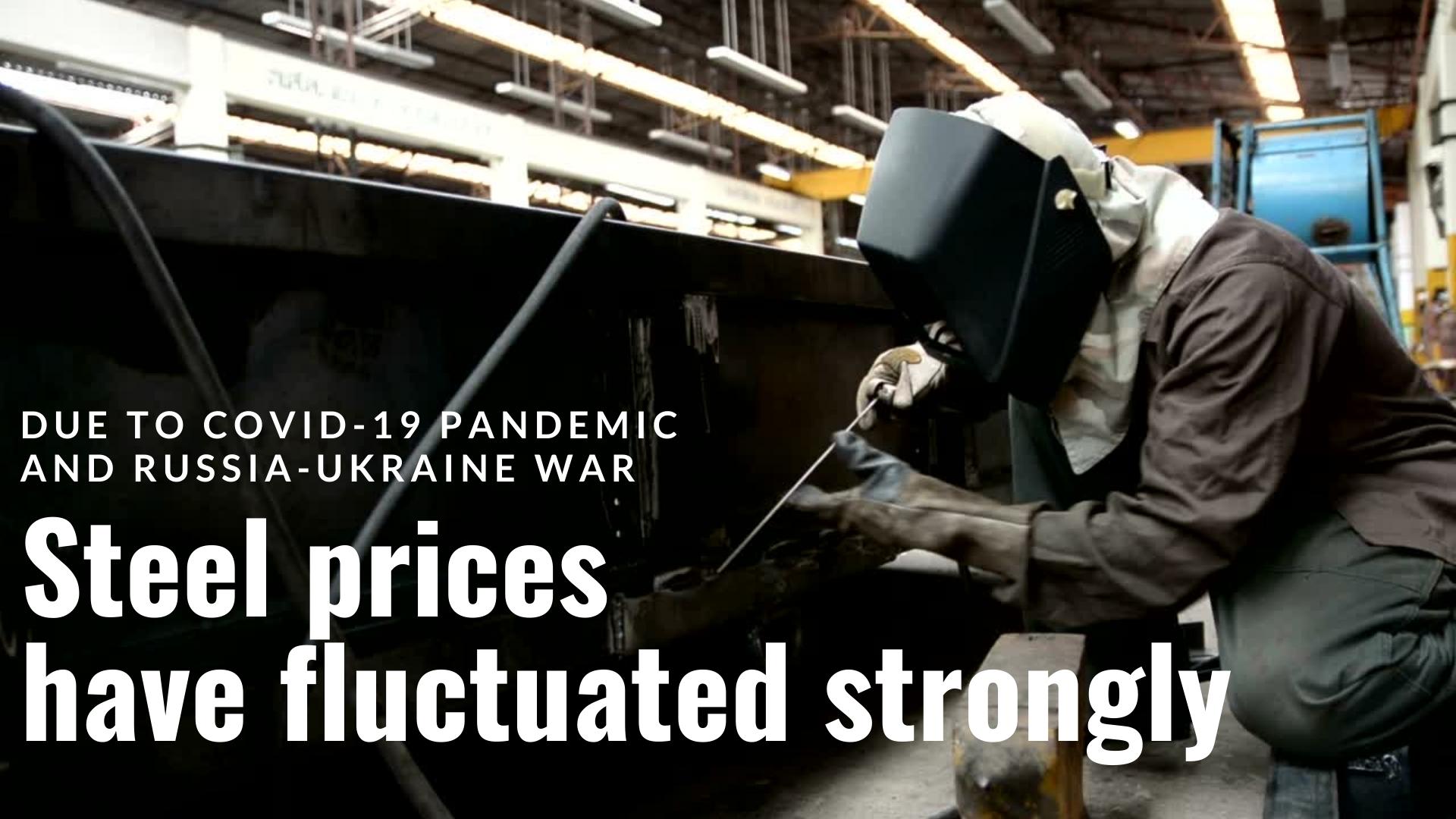 Even with so much variation in steel building prices, these few factors are valuable to consider when estimating the price of your building and identifying ways to save some money.
Beyond the cost of your metal building system: What else to include in your budget>>
It's important to note that the price tag on your steel building system is a small component of the overall cost of your construction project. There are other scopes to consider such as site cleaning and grading, concrete, electrical, plumbing, mechanical (HVAC) and finish work.
There are many items to factor into your budget beyond the price of the building system itself. If you choose to act as your own general contractor, you will need to survey and grade your property, check out the local zoning requirements and restrictions and lay your foundation. You'll also be responsible for lining up subcontractors to take care of the previously mentioned mechanical, electrical and plumbing (MEP) work and any other finish work your building needs.
If you hire a general contractor, they will coordinate all scopes of your project. This will increase your overall project cost, but keep in mind that you are paying for their experience and trusted sub-contractors. This is known as a "turnkey" project. Whichever you choose, you will need to budget for the site preparation, permitting, erection, MEPs, and finish work for your project.
Factor 6: Transportation
The distance steel shed kits have to travel—from the manufacturer to the jobsite—will have an effect on the overall price. In many situations, a manufacturer in the vicinity of the building site may have a higher transportation cost than a manufacturer from another country such as Mexico, Vietnam, or China.
Factor 7: Construction Costs
The construction costs you encounter while completing your building can fluctuate even more than the price of steel. A good rule of thumb is to count on between $10-$20 per square foot for essential things like concrete, erection, and insulation, but that range can vary greatly.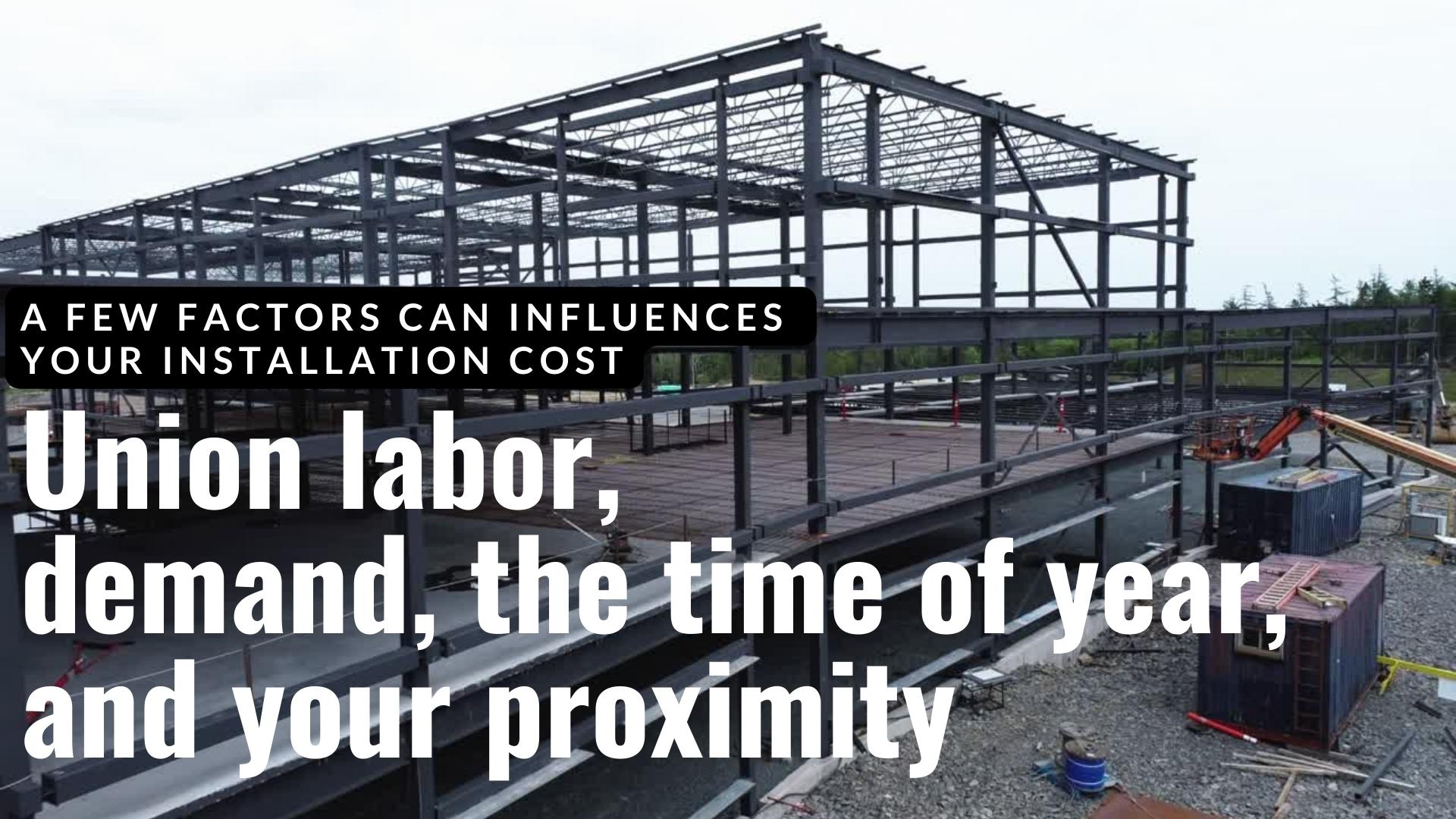 Union labor, demand, the time of year, and your proximity to suppliers are just a few factors that can influence the price in your local market. Typically, the Northeast has higher construction costs than other regions, but that doesn't mean every state in the Northeast has similar high costs.
That's why it's important not to rely on general cost per square foot estimates when planning your project.
The importance of accurately comparing your steel shed/ building quotes
When it comes to the quotes for your steel shed itself, make sure you take an honest look at where differences in price come from. It is extremely common (and easy) to just look at the bottom line number without making a thorough, line-by-line comparison. If there is a major price difference, make sure you understand why.
Maybe one quote includes a painted standing seam roof, and the other a galvalume roof. Maybe one isn't rated to withstand your area's wind load requirements. Don't make the common mistake of jumping at the cheapest bid — make sure the building you choose complies with your local building codes and meets your design needs.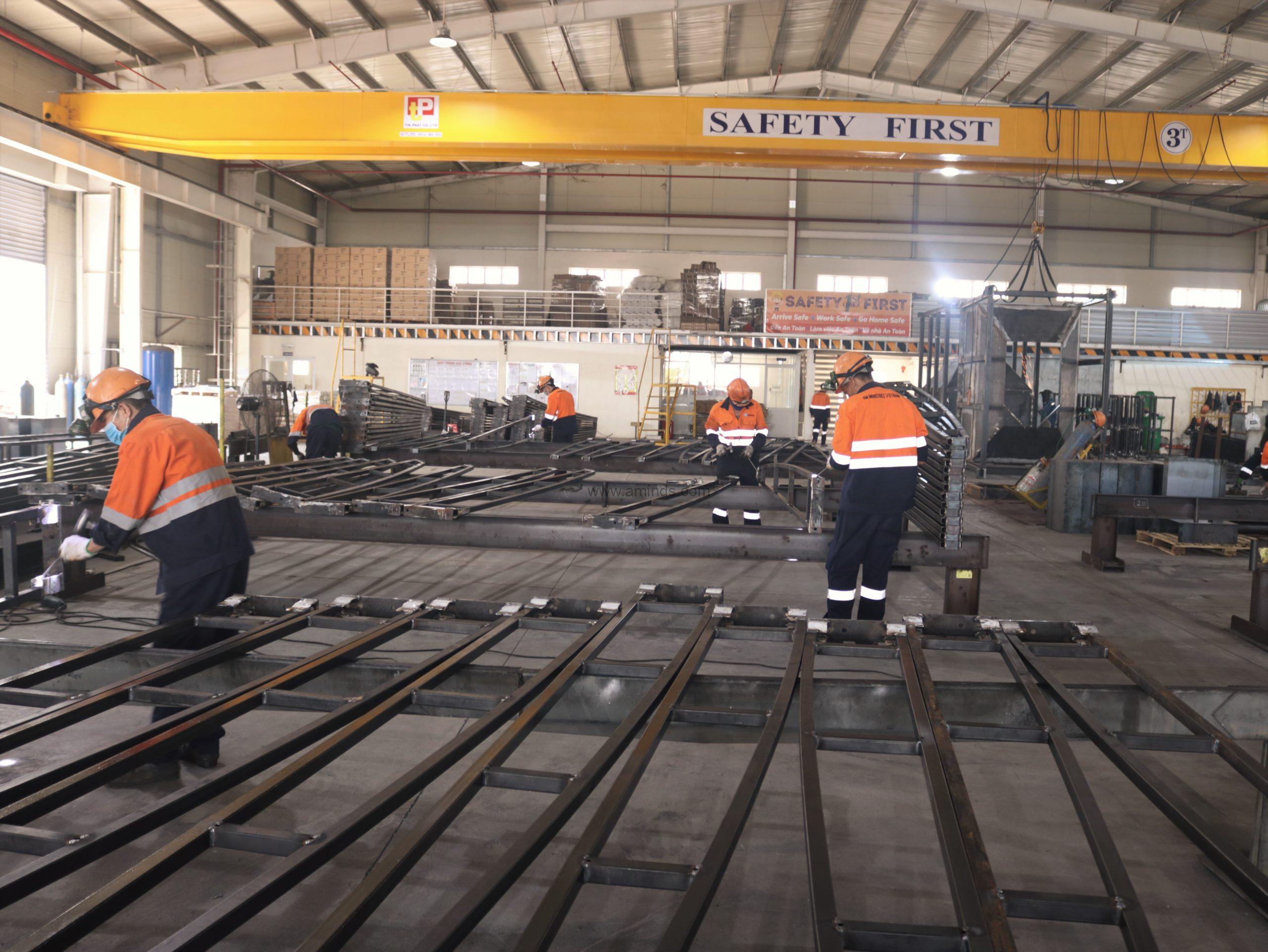 We'll walk you through what is —and isn't— included in each quote. Working within your design needs and your budget constraints, our AM project consultant will help you customize a building that's cost-effective, up to code and achieves the look you desire. Request an obligation-free quote today to get started.